PubCast #301  
So, you live near Lansing, Michigan. You're a home brewer, and you'd like to scoop up a fresh batch of grains, hops and yeast to brew up a tasty beer of your own design. Where do you go to get your brewing supplies?
The Michigan Brewing Company closed it's doors this spring, and with it, their homebrew supply shop "Things Beer". The Red Salamander, is  "all the way" over in Grand Ledge – truthfully, it's not that far, and it's a great place for homebrew supplies, but everyone likes convenience, right?
It would be great if there were a home brew supply store right here in Lansing….

Enter "That's How We Brew", a full-service home brew supply shop located on the border of Lansing and East Lansing, right across from Jet's Pizza by the Frandor Shopping Center.
That's How We Brew held an Open House on August 26th to introduce itself to Lansing, so TripleNad and I paid them a visit, and had a chance to interview Owner/Manager Patrick Brazil  to see what this new homebrew supply store has to offer.
We found a great selection of hops, grains, yeast and other brewing essentials so you can make your own concoction, as well as all-in-one homebrew kits so you can just grab one, and go! With a malt grinder on-site, and all the bottling and kegging supplies on-hand (or available for order) you can brew just about any beer you can think of. That's How We Brew is sure to have you covered the next time you're feeling like firing up the burner on your brewing rig.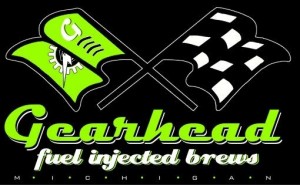 Also present at the open house was an up-and-coming brewery, Gearhead Brewing Company based in Haslett. The Gearhead staff had samples of, their "Flathead" Creme Ale and "Hopped Rod" Double-IPA,  among others.
These guys have some great beer. If you want a chance to try some, they're getting feedback about their recipies in a very unique way: A five-division Road Rally.  Each stage of the rally pits three beers against each other in a specific class (Amber Division, IPA Division), and randomly selected "testers" are delivered a Six-Banger of Gearhead Hop Pops, along with a unique code, so they can vote on the Gearhead Brewing website for their favorite brew.
Want to throw your name in the hat for the next Gearhead Brewing Road Rally? Sign up here.
We were able to capture an interview from Gearhead as well. We heard about their humble beginnings, as well as plans to ramp up production for world domination regional distribution.
Check out both interviews, in an unconventional PubCast where we get a little serious, and only make one crude joke (…maybe two).